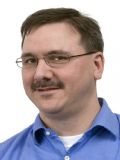 Get your MITM learn on, care of Andrew and Sean.
Not only were they kind enough to let us use their meeting room, they are also going to share a presentation they gave last week at
Educause
. Thank you!
Abstract from the Educause page:
Although monkey-in-the-middle (MITM) attacks are well-known, little is done to prevent them. We'll give examples of MITM attacks against SSL Web sites, Kerberos, and SSH, all using free tools in a typical campus computer lab, then we'll show how vendors, sysadmins, and even end users can protect against these attacks.
Check out their presentation
here
.
My talk on Backtrack2 is postponed until our next meeting.


Date:
April 18th
Time:
7:00 PM
Location:
IT building at Michigan and West street (535 W. Michigan St.) IUPUI campus.
Room Number:
IT303
, however everyone
will need to meet in the lobby
so we can get the up to the room. Room phone number will be provided at the security desk for those who are late. Someone will come down and get you (probably me).
Food:
Pizza (will order there)